Ethiopia 2019

We had decided to have a special celebration for Barry's 70th birthday so we thought: what better country to visit than Ethiopia? It had been on our radar for a while, so we went!  This is our itinerary, lots of places visited, always on the move…  Here is our blog, I hope you like it!
Ethiopia at a glance
Population: ca 100 million (82.5 July 2008); Religions: Christianity, Islam and Judaism (the Falashas); Climate: from the central highlands (up to 4,000 plus metres to the Danakil Desert); History: "Ethiopia is the only country in  Sub-Saharan Africa with tangible historical remnants stretching back to the ancient Mediterranean civilisations." (from Bradt Travel Guide to Ethiopia). Currency: birr; Languages: 70 languages are spoken in Ethiopia, the main being Amharinha  (Amharic): Food: traditional is injera (bread made with teff) eaten with wat (sauce, usually spicy).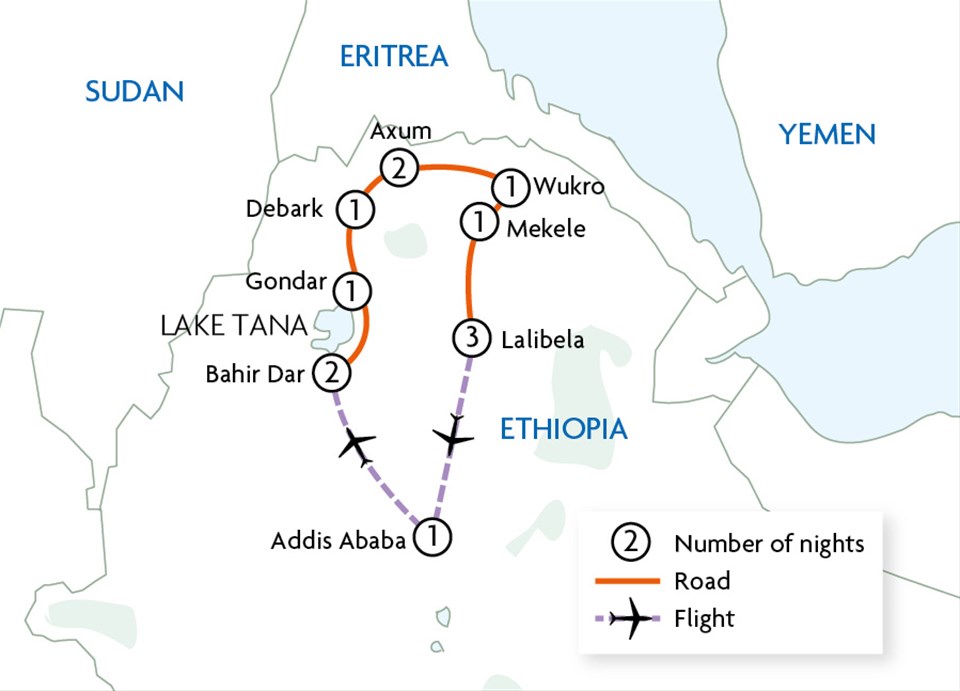 Monday 11 November 
Arrival and visit of Addis Abeba
We arrived at Addis Abeba Bole airport at 07.15 after a 6 1/2 hour flight.
Confusion at the airport, long queues at immigration. Finally got through and met Gebre, our tour guide and got onto our minibus to the Magnolia Hotel. It turns out that this was fully booked because of a conference, so we transferred to the Jupiter Hotel (a much better choice of rooms). However, we had to wait for half an hour to have hot water for a shower. After a recovery break we went into town to visit a few highlights: the National Museum which houses some of the country's historic treasures. The collection of fossils and bones of early hominids discovered in Ethiopia include the 3.5 million year old remains of Lucy, the oldest hominid ever found. We also visited the Holy Trinity Church, Ethiopia's main cathedral and home to the remains of the last emperor, Haile Selassie. In the grounds of the church there are the graves of Sylvia Pankhurst and her son Richard, who worked at Addis Abeba University.  We also visited Menelik's Mausoleum.
 
Addis Abeba (New Flower) is a vibrant city of ca five millions, at 2,400 metres on the Ethiopian Highlands, surrounded by the Entoto Hills. It was founded in 1887, when Menelik II moved his entourage from the Entoto Hills to the present site.  
We had our meal in the hotel and early to bed for an early start tomorrow!
Our group of 16 people was very nice: mainly couples and two single women; four doctors and two nurses, so we thought: great, we are covered for any eventuality! We got on very well from the start.
Tuesday 12 November
Bahir Dar, Lake Tana and the Blue Nile Falls
The alarm went at 4.30am, breakfast at 5.15am and then off to the airport for a short 50 minute flight to Bahir Dar, capital of the Amhara region. We both had a window seat which gave us a chance to see the landscape below – hilly and cultivated. We booked into the Tana Hotel, on the shore of the lake, which I would described as shabby chic; it had seen better days. We had gone from 2,400 metres in Addis to 1,800 in Bahir Dar, which has a tropical climate with palms.  We were taken to the start of a 2 1/2 hour walk to the Blue Nile Falls: stunning landscape, difficult, stony in part, path and beautiful, colourful birds. We saw black kites and a vulture.  
The Blue Nile Falls from a different angle
Somewhere on the path we saw how injera is made: in a hut a woman poured the mixture of water and fermented teff flour on a hot round plate and cooked it on a fire.
We tasted some and it was delicious. We went through a couple of villages that had houses built from trunks of eucalyptus trees (the walls), covered with mud and cowdung, some of them painted in bright colours. They last about five years and then they have to be rebuilt. Children waving as our bus was passing.  We bought two beautiful cotton scarves, one green, one red. At the end of the walk we crossed the river in a tiny boat and walked back to the bus. We went for lunch to a nice restaurant overlooking the lake I had injera with a bean sauce and Barry had spaghetti (which was overcooked and cut up in short bits – aargh!) Then off to the market and finally to a panoramic point to look over the town. On the way we passed a monument commemorating the victims of the DERG. Dinner at the hotel with a special cake to celebrate Susan's birthday.
Wednesday 13 November 
Lake Tana and the monasteries
It's Barry's 70th birthday! Today we visited two monasteries on Lake Tana: first Narga Selassie and then URA Kidane Mehret on a peninsula. Both very impressive places, with paintings of stories from the Bible (both Old and New Testament) on the walls. We had a very thorough introduction and explanation of the various "scenes" from Gebre. The Ethiopian Bible is more detailed than the Western version, for example in the story of Mary and Joseph's flight to Egypt they tell of where the stayed in Egypt.  

On the way to Kidane Mehret the path was winding up and there were stalls of traditional crafts, so we bought three scarves, two papyrus boats and a bag of coffee. The proceeds all go to the local community.

The boat trip was very relaxing – and long; we saw a pelican and a fisherman in a boat in the distance. Lunch on the boat and also coffee and tea was served by a nice woman.

In the evening we went to a restaurant in the centre of town – a good one as there were many local customers (always a good sign). We had injera with vegetable wat (sauce) and St George's beer. St George is the patron saint of Ethiopia.

And at the end of the meal there was a birthday cake for Barry!
Thursday 14 November
Gondar and the castles 
We drove to Gondar, through a very interesting landscape, lush and green, fertile with cultivation of rice and other crops.We stopped in a village on the way and spent some time in the local market; we felt a little uncomfortable as we were walking on a packed and narrow path walking between people and their produce trying to avoid stepping on onions and potatoes. On arrival in Gondar we stopped at the Kidu Trust, which works with disadvantaged children and their families on different projects (including football for both boys and girls). We had coffee and popcorn. The coffee ceremony is a ritual: the beans are roasted then ground and mixed and boiled in hot water, while a burner with frankincense spreads a pleasant waft of perfume around.  I bought two nice necklaces. Bought a bag of kolo (roasted barley) in a supermarket nearby. I will enjoy it as a snack back home.
We settled into the Goha Hotel, on a hill above the town with a nice view.
In the afternoon we visited the castles in the Royal Enclosure and learnt a lot about the town's history.  The castles were built in the 17th and 18th century by several generations of Ethiopian kings. Gondar was the first capital of Ethiopia and a centre of trade.  Being only 200km from Sudan, trade flourished between Gondar and Sudan.  On the whole Christians live in the highlands and are farmers and Muslims are traders and live in the lowlands.   One of the castles had a banqueting room, which was used as an army depot during the Italian occupation.
When the British bombarded Gondar in order to drive out the Italians out some of the castles were damaged.  
At the bathhouse of Fasilides Ethiopians celebrate the festival of Timkat (18-20 January) each year. It is attended by thousands of people, priests in their colourful robes, the pool is filled with water and people jump in it.
Last was Debre Birhan Selassie Church, with beautiful frescos of scenes from the Bible, and a ceiling painted with angels.
Dinner at the hotel: gnocchi with tomato sauce for Barry and a mixed salad and a lentil soup for me with a nice glass of Ethiopian red wine, all for 700 birr.  They have vineyards in the south of the country.
Off to the Simien Mountains tomorrow! Fleece and waterproof needed.
Friday 15 November 
Debark and the Simien Mountains
We drove from Gondar to Debark, which is at 2,700 metres. We passed a Falasha village and heard the story of the Jews of Ethiopia and their "return" to Israel. We saw a star of David on one of the houses. We settled in our hotel – the Ras Dejen, nice comfortable room. The Ras Dejen is the highest mountain in Ethiopia: 4,600 metres.  We bought a guide to the Simien Mountains National Park, paid the entrance fee, drove for about an hour and started a three hour walk (with lunch of bread and banana in between).  We were accompanied by three guides, and two of them had rifles to protect us from bandits (shifta) who kidnap people (we were told). Stunning views, path relatively easy, but found the high altitude – 3,250 metres – quite challenging. Walking sticks very useful!  We saw lots of gelada baboons, they don't seem to be bothered about us. I bought a nice little basket with the colours of the Ethiopian flag (green, yellow and red).
Another good picture of the Simien Mountains (I think this one is from John or Lin)
Saturday 16 November 
A long drive from Debark to Axum. Stunning scenery and a dramatic winding road (built by the Italians) with scary hairpin bends. Not a tarmacked road. Very fertile land. Children waving by the side of the bus and many animals – goats, donkeys, cattle – milling around in the road. We stopped a couple of times for photos and for lunch at the Africa Hotel: spaghetti with tomato sauce for Barry and rice with vegetables for me (190 birr). Further down the landscape changed, not so lush but still beautiful. We saw some colobus monkeys on the trees and a column of camels further down.
In the lowlands of the Simien Mountains we crossed the Tekeze River gorge. We saw two ruined Italian  garrisons. 
There is a refugee camp for Eritreans run by the UNHCR. Gebre explained that the situation in Eritrea is not very good economically. It is a dictatorship, no freedom, that is why so many people want to leave. Relationships between Ethiopia and Eritrea have improved, but there was a long war between the two countries. Now relationships have been re-established; the Ethiopian Prime Minister Abi Ahmed Ali has won the Nobel Peace prize for that. Flights between the two countries  have resumed but the land crossing is still problematic because of land mines. We noticed more people carry guns/rifles in Tigray and there were two checkpoints on our way to Axum.
We checked in at the Armah Hotel, beautifully appointed and comfortable rooms. Dinner this evening in a restaurant just up the road from our hotel.  We had a veggie burger and chips each and shared a mixed salad and two beers (255 birr).  Then we went to a restaurant/bar with traditional music and dancing in which we participated. On stage six dancers, three men and three women, dancing to the very fast and rhythmic recorded music. 
Sunday 17 November
A full day in Axum
We are now in Tigray. Axum was the ancient capital of the Axumite Kingdom and it is here where the Ark of Covenant is. The story, or myth, is that Menelik I went to Jerusalem to meet his father Solomon, who gave him what he thought was a replica of the Ark of Covenant, but was in reality the original. When the mistake was discovered it was too late, as Menelik had left for Ethiopia. 
Axum was one of the most powerful kingdom in the ancient world. It had control over both sides of the Red Sea in what is now Yemen. It was politically, economically and technically advanced and was well positioned to take advantage of trade routes which embraced the Mediterranean, India and the great port of Adulis on the Red Sea.
We first went to the stelae field; one of them was taken to Rome during the Italian occupation and then was finally returned. The other one, once 34 metre high now lies on the ground. the nobility were buried in tombs underneath the stelae.
We also visited a modern church, with beautiful paintings, built at the time of Emperor Haile Selassie. Outside there was a group of young people singing religious songs in the ancient Ge'ez language. We also saw a stone carved in three languages: Greek, Sabean and Ge'ez.
We visited a museum and the ruins of the Church of Mary of Zion, all overgrown with weeds. Also the (alleged) ruined palace of the Queen of Sheba, who is said to have given birth to Menelik I, (fathered by Solomon) who founded the Ethiopian ruling dynasty until the late Emperor Haile Selassie.  
After the tour we had a coffee and looked at the beautiful crafts on a nearby stall.
Monday 18 November
From Axum to Wukro
We left Axum and made our way to the 500BC pre-Christian Temple of Yeha. A long journey up and down hills, passing villages and going through the town of Adwa, where the Ethiopians defeated the Italian army in 1896. There is a memorial to the fallen: Ai caduti, Adua 1896 non dobbiamo dimenticare (to the fallen, we must not forget).
At Yeha we had a guide who gave us the history of Yeha.
After lunch in Adigrat we proceeded to the rock hewn church of Medhane Alem Adi Kesho in Tsaeda Imba: magnificent, carved in the rock, on top of a hill, a fairly challenging ascent. No pictures, but carvings of different crosses.  Then a quick descent, helped by local guides, to steady us  just in time to get to the bus before it started to pour with rain. (Isn't this supposed to be the dry season in Ethiopia?)
We arrived in Wukro at 6.30pm, got to the Hotel Fiseha, and had our evening meal. The majority of our group ate goat, whereas us two ate rice and vegetables…
The hotel was really basic, although it had hot water for a shower. Anna saw cockroaches in her room during the night and she killed them and in the morning there was one on the toilet seat! Poor her!
Tuesday 19 November
Wukro rock hewn churches
In the morning we visited two more rock hewn churches: the famous Abreha Wo Absebeha (two brothers who were saints) and Wukro Cherkos, on the northern outskirts of the town. On the way to the first church the road was difficult as the bus was getting bogged down in mud as it had rained the night before, but our driver Tariku was brilliant and we managed to get there! Another example of beautiful church carved in the rock face and with frescos on the walls, saints, Madonna, Adam and Eve, etc. 
In the afternoon we made our way to Mekelle. We seem to be jinxed as the hotel we were supposed to stay in had made a mistake so we had to find another one. We are staying one night at the Zemarias Hotel in a better position in the centre of town.  Quite luxurious, but the water in the shower was cold. Can't have everything! After lunch we drove to the Tigray Martyrs Memorial which honours the patriots of Tigray in the struggle for democracy during 17 years of civil war against the DERG.  Symbolism represented by the figures and statues and the central tower with a sphere representing victory. The TPLF (Tigrean People's Liberation Front) was the main protagonist in the struggle.
We also visited a museum dedicated to the struggle with hundreds of photos of soldiers and village scenes.  During the 1980s famine, which was mainly in the north of Ethiopia, the TPLF aided people, providing them with food and assistance.
Dinner out this evening: pizza  with vegetables (marked on the menu under "fasting food") then walked back to the hotel in the dark trying to avoid the traffic and careful on the uneven payment.
Wednesday 20 November
From Mekelle to Lalibela
Up early today with breakfast at 5.30am. Left Mekelle at 6.15am for a very long journey across a beautiful and diverse landscape. Sorghum and barley are cultivated here. The road is half tracked and half dirt track with many potholes which our driver skilfully avoided.  We passed many villages, stopped at a livestock market, with camels, donkeys, cattle – impressive!  At a road block we found out that there had been a traffic accident when a minibus went off the road, killing 11 people. One of the victims was from that village and they were collecting money for the family. Also some children gathered around our bus with bunches of carrots.
Better than the carrots from my allotment! (must be the soil)
At another stop Gebre bought some freshly cooked broad beans, still warm – delicious! Saw lots of tukuls, traditional round structures with thatched roofs.  In one of the villages we saw a swarm of locusts and children were chasing them away.  We had few stops during the day, for lunch and stretching our legs…
We stopped at a livestock market and we saw lots of donkeys and camels…
We arrived at the Roha Hotel in Lalibela at 19.30pm!! Dinner at the hotel was a buffet with a good choice of vegetables.
Slightly later start tomorrow, leaving at 8.30am and no packing for a change. We are staying in Lalibela for three days. 
Thursday 21 November 
Lalibela rock hewn churches
Today we visited the rock hewn churches of Lalibela. The town was fairly unknown until 25 years ago when the population was only 10,000; now it is 30,000. Only a few people came here during the 1950s. During the DERG regime no tourists came and from 1991 tourism started again but now it provides the main income of Lalibela. There are more hotels, more souvenir shops and many local people work as guides.  Our hotel, the Roha, is part of a government chain.
In the morning we visited the North Western cluster , which included Bet Methane Alem, Bet Mariam, Bet Danaghel, Bet Mikael and Bet Golgotha.  It is amazing how these churches were carved in tuffa, the local stone. Also we visited Bet Giyorgis, the most stunning monolithic church, carved below ground and reached by steps through a trench. It is in the shape of a cross. St George is the patron saint of Ethiopia.

Another view of Beit Giyorgis

Priest walking on a perilous edge (must have a good head for height!)
Some of us (below) walking on the edge
In the afternoon, after a shared substantial lunch (lentil soup, rice salad and spaghetti al pomodoro) we went to the South Western Cluster, which included: Bet Emanuel, Bet Mercurios, Bet Gabriel-Rafael and Bet Abba Libanos.  We went through tunnels, up and down steps, down into trenches, took off our shoes many times!!
Friday 22 November
Mule trek up to Ashatan Mariam monastery
We started at 7am (early start to avoid the heat, but today we have a drizzly rain) with the mules waiting for us outside the hotel.  A coordinator pointed at each of us as he chose the appropriate mule. My mule is called Desta and he was very good, no bumping around or running close to the edge of the path. Quite a challenge, especially as the ground was muddy.
Amelia ready to go…  and Barry…

We walked for one bit of the way and reached Ashatan Mariam Monastery through a dark tunnel. We are at nearly 4,000 metres. The monastery is carved in the rock; we took our shoes off and got our socks wet. Beautiful simple interior, small. A priest showed us some of the treasures: a bronze cross (heavy!) books and wooden crosses. Across the church a group of priests was chanting.  On the way down we stopped for a coffee break and then back on the mule for the descent. Misty, so no views, but an unforgettable experience – and a sore bottom!
Dinner this evening was at an amazing restaurant in Lalibela called Ben Abeba, perched on a hill above the town, with wonderful views.  It is owned by a Scottish woman (who was on a Ben Fogle's documentary Lives in the Wild on Channel 5). Susan Aitchison, a retired home economics teacher from Glasgow went to Lalibela and started a school and a restaurant. We had vegan shepherd's pie with a very generous glass of red Acacia wine.
Saturday 23 November
Flight to Addis Abeba and back at the Magnolia Hotel where we had a day room.  Dinner at Savor, a nearby restaurant. We had pizza and wine. End of our wonderful holiday in this amazing country. Flight to Heathrow at 1.20am. 
Thank you our guide Gebre and our driver Tariku! Both brilliant
And here are our wonderful travelling companions, on the mule…